Disposable PP Non-Woven Non-Slip Shoe Cover, Made by Machine

Product Description
1. Can be used in food industry, medical, hospital, laboratory, manufacturing, cleanroom ect..
2. Dustproof, non-skid.
3. Made by machine, and the joint of the band is ultrasonic synthetic.
* There is non-skid printing on the sole
* Angle high slip on with elastic top
* Elastic band gives secure yet comfort fit, around the shoe
* Economical
* Disposable
| | |
| --- | --- |
| Product Type: | Disposable PP Non-Woven Non-Slip Shoe Cover, Made by Machine |
| Material: | Polypropylene |
| Gram (GSM): | 35g, 40g (Can be customized) |
| Size: | 18x41cm, 18x43cm, 19x45cm (Can be customized) |
| Packing: | 10pcs/bundle, 100pcs/polybag, 1000pcs/ctn (Can be customized) |
| Color: | Blue, White, Red, Green, Yellow, Dark Blue, Orange, Black (Can be customized) |
| Sample: | Provided freely |
| OEM/ODM: | Available |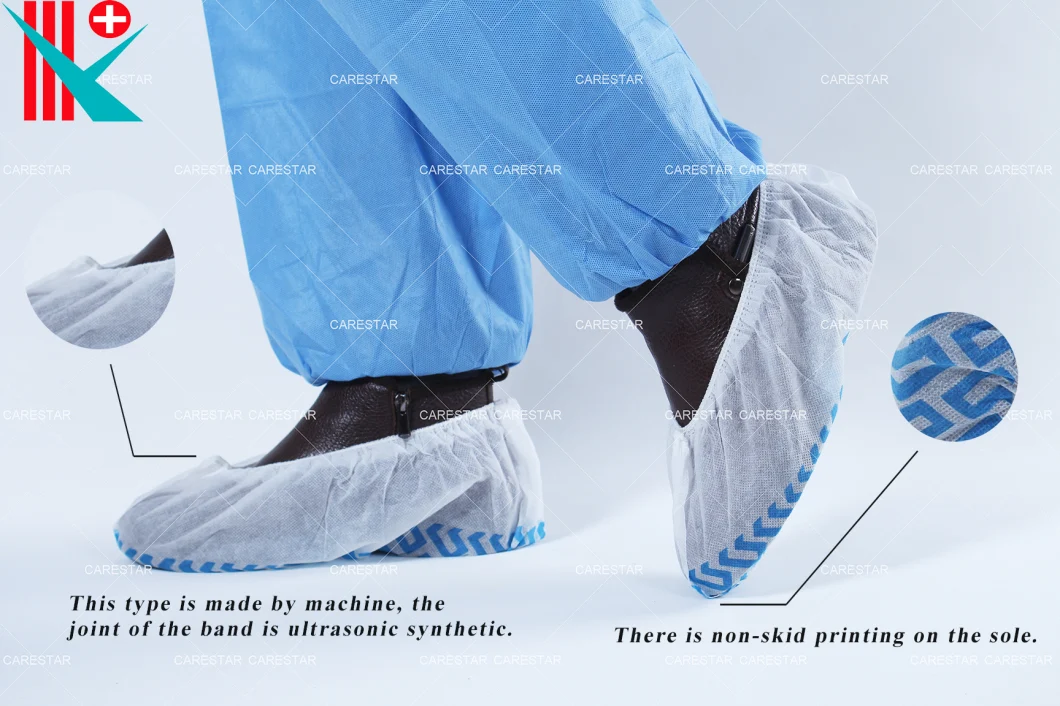 Production Flow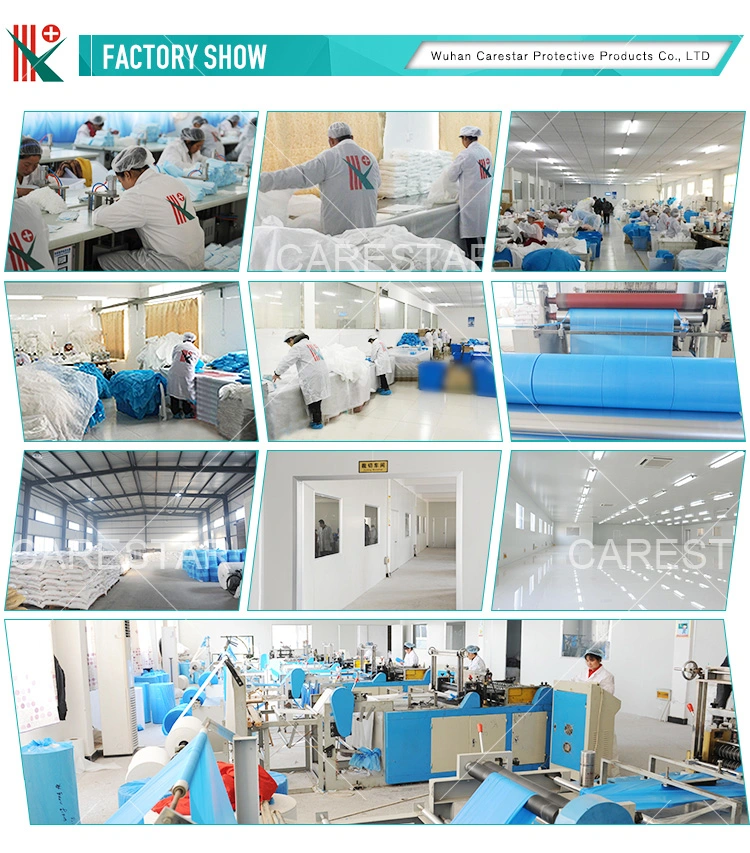 Packaging & Shipping
Packaging:
1) 10pcs/bundle, 100pcs/polybag, 1000pcs/ctn
2) 10pcs/bundle, 100pcs/polybag, 300pcs/outer polybag/ctn
3) 100pcs/inner box, 1000pcs/ctn
(Can be customized)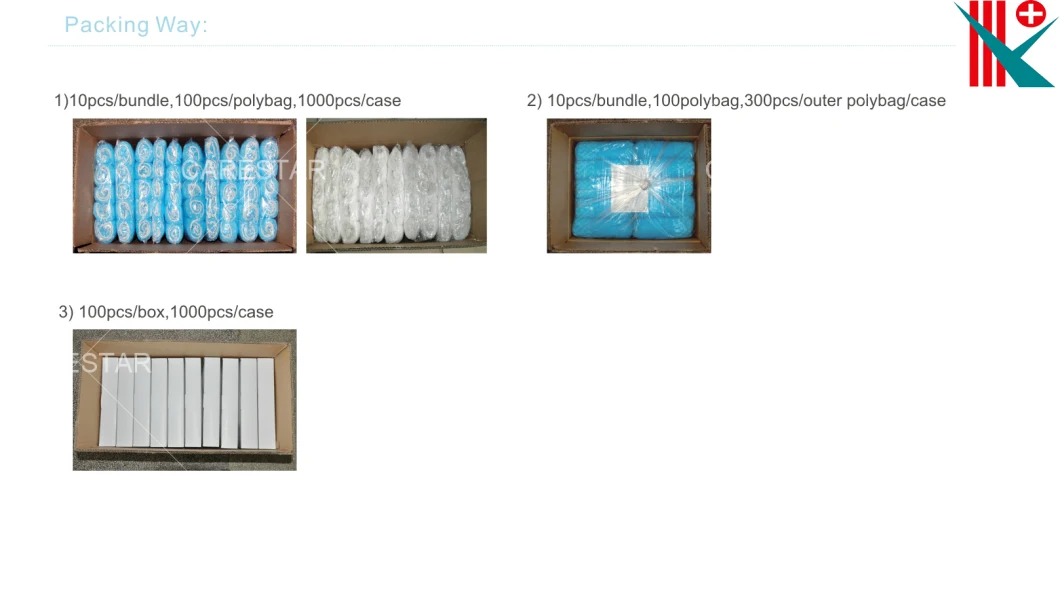 Shipping :
We suggest to load the cargo into the container at our factory and ship from Wuhan port to your port directly to keep the outer cartons in good conditions. Pls see the following pictures for your reference: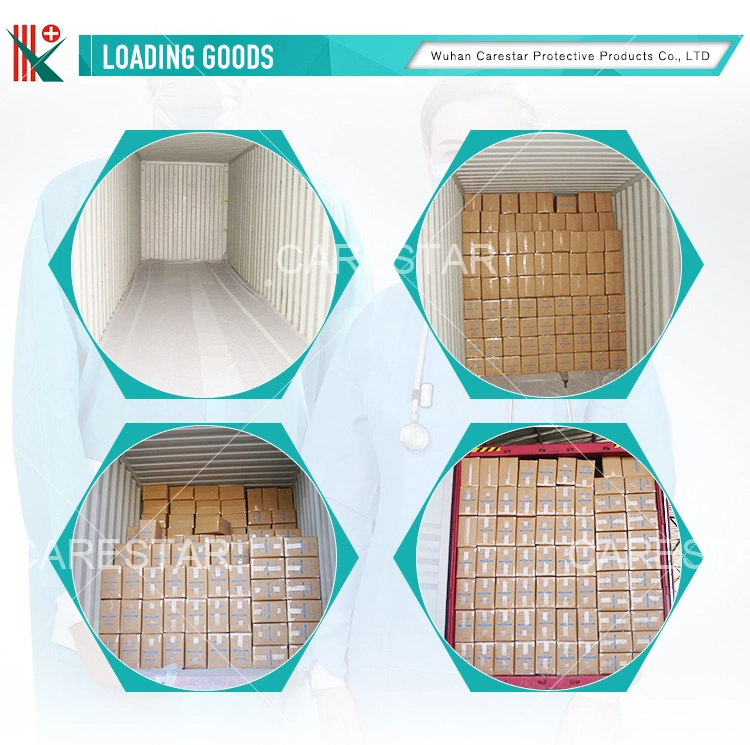 Product Overviews
• FACE MASK
Face Mask Sewing, Face Mask Ultrasonic, Face Mask with Shield, Activated Carbon Face Mask, Sponge Proof Face Mask, Paper Face Mask, N/W Beard Cover, N/W Dust Mask, Particulate Respirator, Polyester Dust Mask, etc.
• NONWOVEN CAP
Bouffant Cap, Snood Cap, Peaked Cap, Peaked Airy Cap, Nylon Net Cap, Mob Cap, Surgical Cap with Ties, Surgical Cap with Elastics, Surgeon's Hood, Protective Hood, N/W Chef Cap, Paper Cap, Shower Cap, etc.
• SHOE COVER
CPE Shoe Cover, CPE Coated Shoe Cover, PE Shoe Cover, N/W Non-Skid Shoe Cover, N/W Plain Shoe Cover, N/W Ultrasonic Shoe Cover, Boot Cover, etc.
• NONWOVEN APPAREL
PP N/W Isolation Gown, Spunlace N/W Lab Coat, Gown, PE/CPE Apron, etc.
• GLOVE
Vinyl Glove, HDPE Glove, LDPE Glove, House Glove, Latex Glove, etc.
• COVERALL
PP/SMS/PP+CPE/SF/Spunlace Coverall
• NEW ITEMS
Shopping Bag, Disposable Underpad, Dental Bib, Tube Evacuated Blood Collection, etc.
• OTHERS
Nonwoven Wipes, Nonwoven Briefs, Nonwoven Underwear, Wound Plaster, Nonwoven Slippers, Adhesive Tape, etc.
Company Information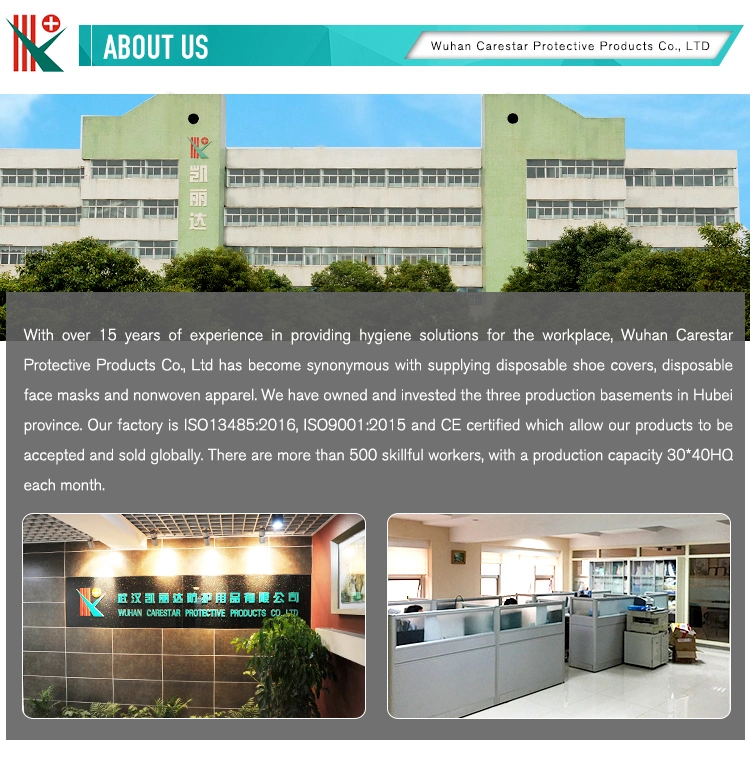 Wuhan Carestar Protective Products Co., Ltd (Commerial Registeration No. 420111000043290)
Address: Room 2507-08 Wanli Plaza, No. 508 Youyi Avenue Xudong Wuchang, Wuhan, China 430063
Xiantao Carestar Protective Products Co., Ltd (Commerical Registeration No. 91429004MA487UQ74M)
Address: No. 8 Hefeng, Pengchang Town, Xiantao City, Hubei Province
Hubei Carestar Protective Products Co., Ltd (Commerial Registeration No. 420710000003159)
Address: Gedian Economic and Technical Development Zone, Ezhou City, Hubei Province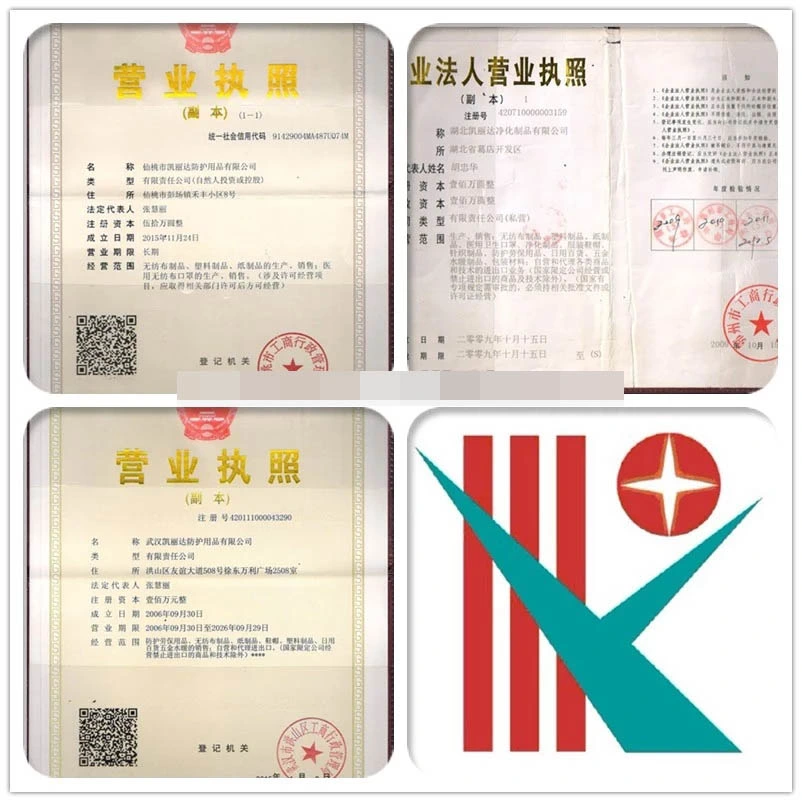 Trade Shows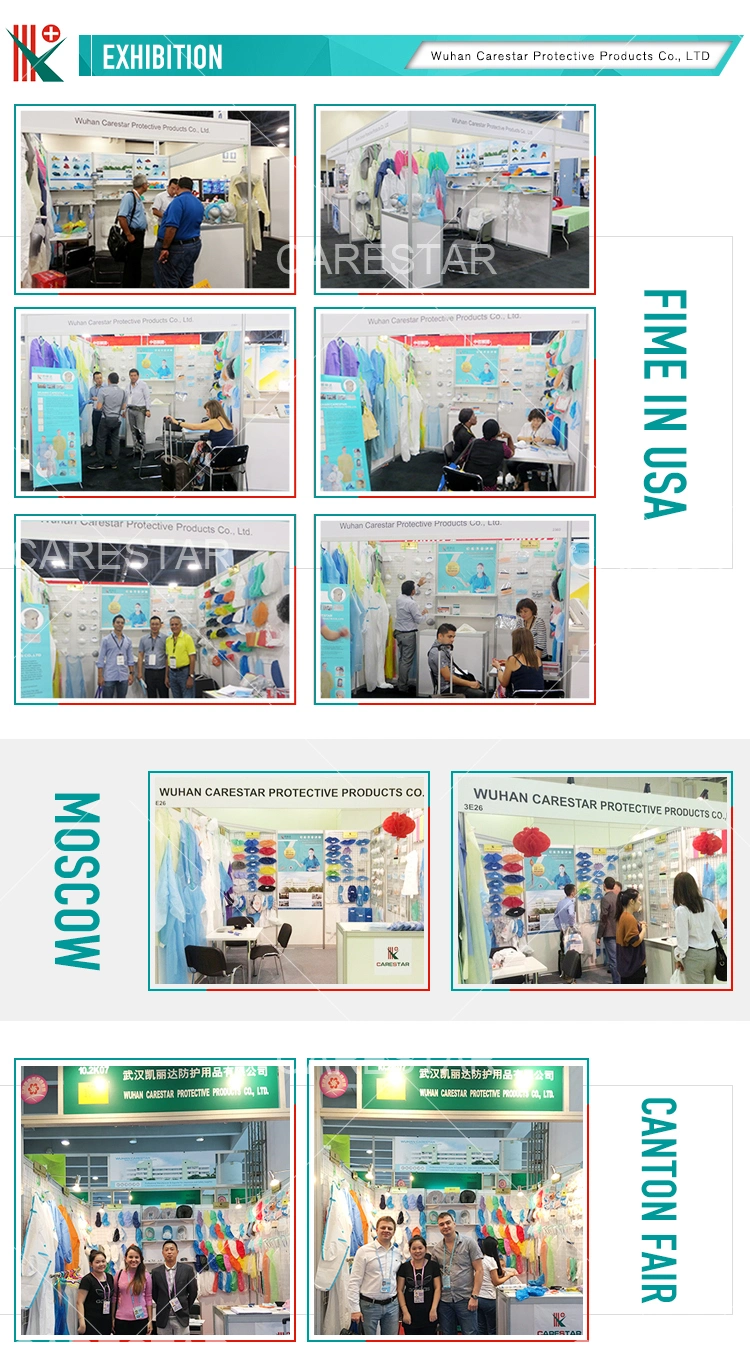 Certifications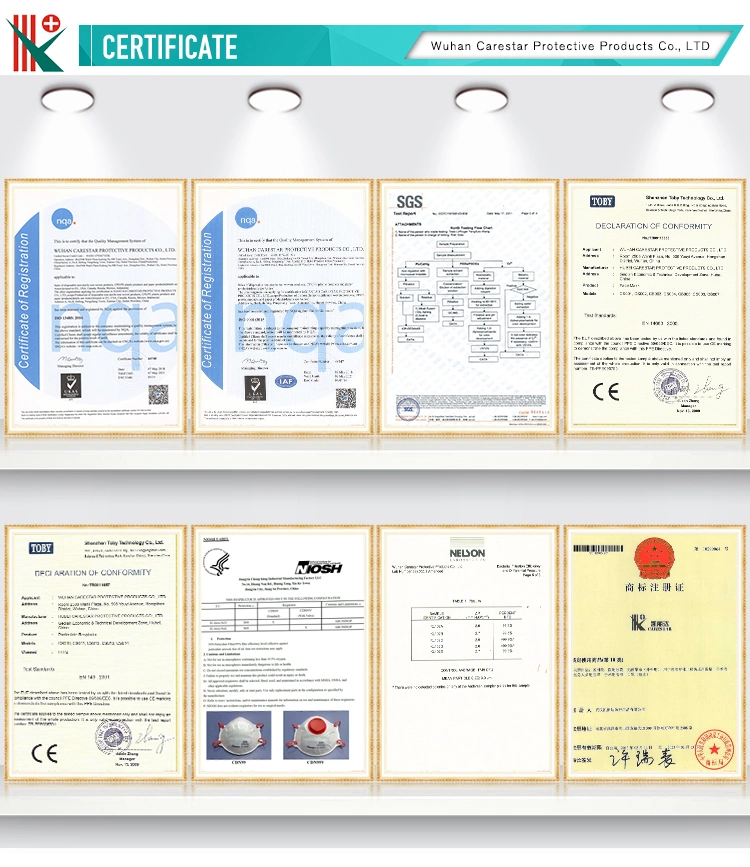 Contact Us